Julie Vastine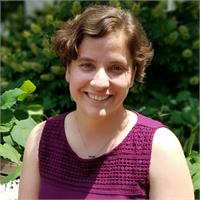 Julie discovered yoga in 2011 during her journey to cultivate practices to better sustain her work in the environmental field. Motivated by her passion to integrate self-care into the workplace, Julie completed her 200 hour certification through Pranakriya School of Yoga Healing Arts to deepen her practice while adding to her teaching toolkit. She is thrilled to offer classes at Yoga at Simply Well that combine prana, meditation, asana, her love for yoga, and sense of humor. When Julie isn't on her mat or working with communities throughout the mid-Atlantic region, she loves to hike, bike, cook, and laugh with her spouse, friends, and family.
Julie Vastine instructs the following:
Through a series of asanas that stretch, strengthen and relax the body and mind, participants build core strength and develop flexibility. With a compassionate focus on proper alignment and the integration of breath with movement, participants find ease and well-being within the postures, leading to a renewed connection with self. Previous yoga knowledge is encouraged but not necessary.




Begin your day with meditation, breath work/pranayama and movement. This class is intended to help students go deeper in their yoga practice by creating the space for advanced breath work integrated with meditation. The class will end by elevating energy with a posture flow. This class is not recommended for beginners.