Julie Vastine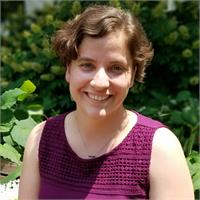 Julie discovered yoga in 2011 during her journey to cultivate practices to better sustain her work in the environmental field. Motivated by her passion to integrate self-care into the workplace, Julie completed her 200 hour certification through Pranakriya School of Yoga Healing Arts to deepen her practice while adding to her teaching toolkit. She is thrilled to offer classes at Yoga at Simply Well that combine prana, meditation, asana, her love for yoga, and sense of humor. When Julie isn't on her mat or working with communities throughout the mid-Atlantic region, she loves to hike, bike, cook, and laugh with her spouse, friends, and family.
Julie Vastine instructs the following:
Through a series of asanas that stretch, strengthen and relax the body and mind, participants build core strength and develop flexibility. With a compassionate focus on proper alignment and the integration of breath with movement, participants find ease and well-being within the postures, leading to a renewed connection with self. Previous yoga knowledge is encouraged but not necessary.




This class moves through a challenging sequence designed to tap into your internal fire through strength building and connecting vinyasas. The room will be heated to encourage detoxification of the body through sweat. Expect to move at a fast pace as well as to hold postures. Each class features a theme (an energetic quality, an inspirational idea, or a peak posture) and a motivating playlist. The class will be rooted in creating a steady breath to guide your practice. If you are looking to detoxify through the skin and develop or deepen your practice this class is for you. This class is open to all bodies and modifications will be provided, though prior yoga or fitness experience is preferred. Please bring a towel and water.




For students who want a deeply relaxing and less physically challenging class. This compassionate approach emphasizes slower meditative simple movements. Plan to release tension, increase flexibility and breathe deeply. Accommodations will be made for people with limitations.