Cindy Beers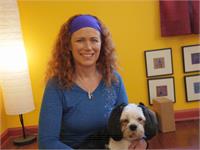 Cindy Beers, founder of Red Head Yoga, creates a place for people of all ages and body types to practice yoga and meditation in a safe, inviting, and authentic environment. Students experience a class which is tailored to the students' ability, sprinkled with compassion and a touch of laughter that leaves them feeling content and at peace. Cindy's teachings are informed from her extensive training and life experiences. She spent 18 years in the US Armed Forces and therefore has a special understanding for teaching yoga to veterans, teens, and adults living with anxiety and trauma. Cindy's work with anxiety culminated in her recently published books, "Mindful Yoga for Teen Anxiety" and "Mindful Yoga for Adult Anxiety."
After having experience a near death episode, Cindy views life as a gift and unabashedly lives it with zest, love and quirkiness.
Cindy, 200-ERYT & 300hr-RYT is a member of Yoga Alliance and the International Association of Yoga Therapist (IAYT). She is also trained in: Mindful Yoga Therapy for Veterans, Healing Trauma Through Yoga, Aqua Yoga, Prison Yoga, Yoga and Meditation for Military Sexual Trauma, Sexual Trauma, Vinyasa Yoga, Hatha Yoga, Thai Yoga, Yin Yoga, Biomechanics, Somatics, Egoscue, Chakras, Ayurveda, Emotional Freedom Technique (EFT), Reiki Master, and Body Rolling. She is also an expert on different types of meditations such as Yoga Nidra, Mindfulness, I Am, Vipassana, Body Image, Third Eye, and Cindy practices Transcendental Meditation. Her university degrees include a Bachelor's Degree in Leadership and Professional Communications and a Master's Degree in Leadership and Philosophy from Duquesne University, Pittsburgh, PA. www.RedHeadYoga.com
Cindy Beers is currently not instructing any classes.