Alison Lintal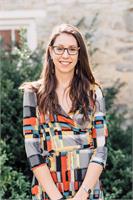 Alison Lintal is a certified Introductory I/II Iyengar Yoga teacher. She has been a dedicated practitioner of Iyengar Yoga since 2010, but she has studied other traditions as well. She began her journey to become a yoga teacher while residing in Chicago where she studied with and assisted a seasoned Certified Intermediate Junior 2 Iyengar Yoga Teacher, Patrina Dobish. She feels blessed to have had the opportunity to study with many experienced Certified Iyengar Yoga teachers in the Midwest and will continue her studies on the East Coast.
Although she was initially drawn to yoga as a way of learning how to work with the physical limitations of her scoliosis, the practice has taught her the importance of quieting the mind as a means to integrate body, mind and soul. Her hope upon returning to the South Central Pennsylvania area is to build a community. When she is not practicing or studying yoga, you can find her perusing the farmer's market, cooking with her husband, hiking or playing with her dog Carmen
Alison Lintal is currently not instructing any classes.