Shelly Baldwin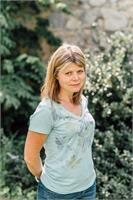 Shelly has been teaching locally in the Carlisle area for over six years. She is a certified Pilates Instructor through American Fitness Professionals & Associates. Fitness found Shelly after the birth of her daughter, Ava in 2007. Realizing that she wanted to be the most fit and healthy person she could for her family and self, Shelly started to develop a love for exercise. Yoga, Pilates and Cycling went from hobbies to professions.
As an avid runner, Shelly found Pilates to be a great way to strengthen core and leg muscles. This core strength helped balance and coordination while trail running on the Appalachian Trail. Shelly's approach to Pilates is more traditional while incorporating movements for runner's. She also has certificates in Yoga and Indoor Cycling and a Bachelor's degree in Communications from Lock Haven University. Shelly is happy to be joining the team at Simply Well.
Shelly Baldwin instructs the following:
An exercise system developed by Joseph Pilates to strengthen muscles, increase flexibility and improve overall health. Learn effective exercises that target every part of the body. Focus on the core postural muscles that help to keep the body balanced and aligned. Emphasis is placed on proper breathing techniques and safety.