Shelly Baldwin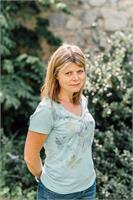 Shelly Baldwin has been a certified mat Pilates instructor for the past eight years. Throughout her career as a fitness professional she has worked at several fitness centers and studios in Carlisle Pa. Shelly's love for Pilates started around 2002 when she saw the infomercial for Winsor Pilates, and she has been hooked ever since. In addition to Pilates, Shelly is also certified in yoga, cycling and senior fitness.
Pilates is a wonderful compliment to other activities such as: biking, running and swimming. Pilates works the entire body to lengthen and strengthen muscles, making it a complete and total body workout. As a trail runner and running coach, Shelly has found that Pilates strengthens the abdominal muscles helping to stay balanced and coordinated. Since Pilates also focuses on legs and glute muscles, it can help to prevent sport's related injuries.
In addition to her fitness certifications, Shelly is a 2002 graduate of Lock Haven University with a degree in Communications. She has competed in the 2014 Boston Marathon, and has completed over 20 marathons and ultra marathons.
Shelly Baldwin instructs the following:
An exercise system developed by Joseph Pilates to strengthen muscles, increase flexibility and improve overall health. Learn effective exercises that target every part of the body. Focus on the core postural muscles that help to keep the body balanced and aligned. Emphasis is placed on proper breathing techniques and safety.




Get ready to improve, enhance and transform your practice. Whether you are a brand new student or an advanced practitioner, there is always more to learn. Our posture clinics focus on a different pose or series of movements each month.

This month is an Intro to Pilates:

You will learn the fundamental principles of Pilates, modifications to protect the neck and low back, how to lengthen and tone muscle while doing fewer repetitions, and to feel confident coming to a Pilates class.

Some Benefits are:

Pilates focuses on symmetrical training, which helps with body alignment.
Pilates slow and controlled exercises puts less stress on the joints.
Pilates will help to strengthen the abdominals, but will also strengthen the entire body.
By starting a Pilates routine, the body can avoid injuries.
Intense concentration on Pilates exercises will help to improve focus.

Cost: $18, FREE for members.