Amy Necci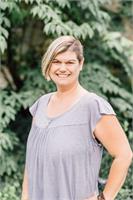 Amy completed her Kids Yoga Teacher Training in 2014 and Tween Yoga Teacher Training in 2015 through Yogi Beans Studio in New York City and has been teaching kids and tween yoga classes ever since. She has studied with Mindful Schools, completing courses including Mindful Educator Essentials, Mindful Communication, and Mindfulness and Difficult Emotions. Amy also participated in a Freestyle Meditation Program at the Kripalu Center for Yoga and Health. In 2017 she received her 200 hour certification through Pranakriya School of Yoga Healing Arts. She is currently working on her 300 hour certification with the same school. Amy holds a Bachelor of Science in Education of Spanish from Bloomsburg University and a Masters in Education from East Stroudsburg University. She has studied abroad in Spain and Puerto Rico.
Amy is a Pennsylvania native who has been practicing yoga and mindfulness for many years and loves weaving them into another passion of hers - working as an educator. She began her teaching career in the Pocono Mountains where she taught high school for 7 years and started her yoga journey, taking Kripalu yoga classes after school with her colleagues. She has felt a strong connection to the Carlisle, Boiling Springs, and surrounding communities since moving to the area in 2007 to teach at the middle school level. After this move, she found a yoga community that has changed her life and deepened her practice. She is truly grateful for all of her teachers along the way who inspired her to continue to dive into this practice and study. Amy feels strongly that yoga and mindfulness can benefit anyone and that the skills learned through these practices are especially important to teach to today's youth.
Amy believes that unity happens when we can be introspective while cultivating a genuine awareness of all that surrounds us. She also frequently echoes the words of her teachers at Yogi Beans with the phrase "yoga is a practice, not a perfect."
Amy Necci instructs the following:
For students who want a deeply relaxing and less physically challenging class. This compassionate approach emphasizes slower meditative simple movements. Plan to release tension, increase flexibility and breathe deeply. Accommodations will be made for people with limitations.




This deeply nourishing class incorporates gentle yoga poses and yoga props as a way to encourage deep relaxation and healing. The majority of the practice is spent allowing the mind to unwind and the body to sink deeper into stillness through the guided process of releasing and letting go. A special invitation is extended to all yoga practitioners yearning to deepen their practice, as well as anyone who may suffer from stress, anxiety, or chronic aches and pains. Every Body, including beginners, are welcome.




Through a series of asanas that stretch, strengthen and relax the body and mind, participants build core strength and develop flexibility. With a compassionate focus on proper alignment and the integration of breath with movement, participants find ease and well-being within the postures, leading to a renewed connection with self. Previous yoga knowledge is encouraged but not necessary.




Join Amy for a balanced meditative special yoga class before heading out for any fourth of July plans. This class is open to all levels and will be a Pranakriya Meditative Yoga class. Meditative Yoga uses classical yoga postures to stretch and strengthen the body. Postures are led in a slow, meditative manner with longer holding to generate heat and encourage the body to release deep-seated tension. This class has a focus on deep breathing and is intended to be internal.