Carol Parr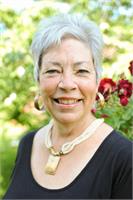 Carol walked into Gold's Gym on a cold February morning in 2006 expecting to learn how to pump iron and walk on a treadmill, but instead, found yoga which has grown into a deep passion. On a cold February morning in 2014, at Kripalu School of Yoga in Lenox, Massachusetts, Carol graduated from her 200 hour yoga teacher training and is passionate about sharing her love for yoga as a way of life for people of all ages and physical abilities. One does not have to be a "pretzel person" to enjoy and gain the benefits of body, mind and spirit that yoga offers to anyone.

A former music teacher and currently pastor at St. John's Lutheran Church in Steelton, Carol graduated with a B.S. in Music Education from Taylor University, her Master of Divinity from Lutheran Theological Seminary at Gettysburg, and the Shalem Institute of Spiritual Formation with a certification in Spiritual Direction. She is also certified in Quantum Touch energy healing, and in past-life regression by Dr. Brian Weiss.

Carol's three sons are all grown up now, and as retirement begins calling her name, she looks forward to many years of sharing her love for yoga with others, excited about the opportunity to do that at Yoga at Simply Well.
Carol Parr instructs the following:
For students who want a deeply relaxing and less physically challenging class. This compassionate approach emphasizes slower meditative simple movements. Plan to release tension, increase flexibility and breathe deeply. Accommodations will be made for people with limitations.




Yin yoga is a practice of longer-held "stretchy" postures to get into the body's connective tissue (ligaments, tendons, and fascia). Sustaining postures for 3-5 minutes allows one's body weight and gravity to deepen into the pose. Through Yin, one develops "core flexibility" (as opposed to "core strength") while simultaneously opening energetic pathways. Great for beginners to advanced students.




Find wet-noodle, extreme relaxation in all layers of your body and mind. Build your cozy nest of blankets, use a bolster under your knees, a foam pillow under your head, an eye pillow over your eyes and snuggle into warm blankets as you experience a journey into serenity, calm, and a respite from daily life. All you "do" is lay there, relax and listen to the soothing sounds of Carol's voice and peaceful music.

Some benefits of Yoga Nidra are:

Transformation of negative thought patterns
Stress relief
Decreases anxiety and depression
Helps with insomnia
Restores energetic balance
Cultivates deep self-love
Helps to lower blood pressure
Balances the autonomic nervous system, and so much more!

Join us for this gentle, yet deep journey to relaxation and Self. Cost: $20

Pre-registration is required by Friday, December 21.