Paul Herzer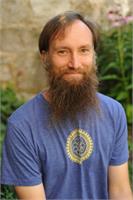 A certified Kripalu yoga teacher, Integrated Amrit Yoga Method, and certified Yoga Nidra Master Facilitator, Paul came to yoga because of chronic pain and inflexibility. The least flexible yoga teacher you'll meet, he believes the measure of yoga isn't in how far you can bend but in how peaceful you can be. With advanced studies at the Amrit Yoga Institute in Yoga Nidra, yoga posture and philosophy, Paul travels the East Coast deepening his practice through his love of learning and teaching. When not teaching yoga or studying with Gurudev Yogi Amrit Desai, Paul can be found chanting with Bhagavan Das or talking about beards. He is lovingly grateful for all his teachers both far and near.
Paul Herzer instructs the following:
Paul leads the Amrit Level I sequence from the Integrated Amrit Method. This 26 posture sequence is a distillation of teachings from 50 years in the West, and is designed to break the reactive patterns of stress and negative thoughts. Unique to Amrit Yoga the Level I sequence is a great way to destress from your day and drop into the Posture of Consciousness. Paul refers to it as Yoga's Greatest Hits, with a mixture of standing postures, balancing postures and floor poses with plenty of time and space in between. A pace slow enough for beginners new to Yoga to follow, with subtle alignment cues to keep even the most veteran practitioner challenged. This class is a unique offering at Yoga at Simply Well. Paul is the only active Amrit teacher in Pennsylvania.




Come home to your Self through complete relaxation and rest…

Divine Sleep Yoga Nidra is an ancient style of meditation that has the power to transform, heal, and rejuvenate the body, mind and soul. An enjoyable, easy practice, Divine Sleep is a highly accessible form of yoga; all you have to do is lie down and listen as your guide leads you on a meditative journey through the multi-dimensional self. By dissolving away the superficial layers of your being, you are free to explore and experience the true essence of your Self. Through deep relaxation, you will plumb the various layers (koshas) of your body, freeing yourself to explore and experience the deepest parts of your Self in an easy and non-threatening manner.

Some benefits of Divine Sleep Yoga Nidra are:

Heart-opening ~ Transformation of negative thought patterns ~ Relieves stress ~ Decreases anxiety and depression ~ Helps with insomnia ~ Strengthens the immune system ~ Restores energetic balance ~ Cultivates deep self-love ~ Helps to lower blood pressure ~ Balances the autonomic nervous system ~ Calms the mind ~ and so much more! Join us for this gentle, yet deep journey to relaxation and Self.