Diana Robinson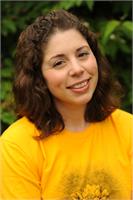 Diana has has been integrating yoga into her life on a regular basis since 2008, but was first introduced to the practice as a child. She realized the healing benefits of a regular yoga practice when she faced life-changing health problems in 2011. Yoga, pranayama, and meditation and mindfulness practices became important modalities which she incorporated into her lifestyle to manage chronic pain and fatigue. This opened the door to another side to her work as a Holistic Occupational Therapist and she began to incorporate these modalities, adapted to each individual, into treatment sessions with patients.
Diana specializes in adapting yoga to fit any body. Her passions include showing students and private clients that anyone can benefit from a yoga practice and helping others to heal through a regular yoga practice. She has taught yoga to all levels, including students with spinal cord injuries, arthritis, lymphedema, strokes, and Parkinson's to name a few.
Diana is a registered Yoga Teacher through the Yoga Alliance, has a certification as a Lakshmi Voelker Chair Yoga Teacher, and she is a Reiki Master Teacher. Diana enjoys regular meditation, yoga, walking, knitting, journaling, and loves to work on her art work, which also includes Zentangling.
Visit her at www.dianarobinsonot.wordpress.com
Diana Robinson instructs the following:
Perfect for beginners and also for those who may be unable to take part in even a gentle class due to mobility limitations. Diana uses teachings from Lakshmi Voelker Chair Yoga to adapt traditional yoga poses to a chair with emphasis on proper breathing and alignment. Build musculoskeletal fitness and flexibility with use of weights and gentle therapeutic movements.