Christine Lauriello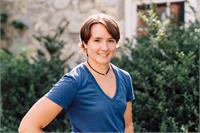 Christine is the office manager for Yoga at Simply Well, Cumberland Valley Appalachian Trail Club President and certified TriYoga® teacher. She has lived in the Boiling Springs area all of her life and is a proud mother of two children.
In her free time she enjoys working on the trail, running, and hiking with her English Springer Spaniel Abby.
Christine Lauriello instructs the following:
Through a series of asanas that stretch, strengthen and relax the body and mind, participants build core strength and develop flexibility. With a compassionate focus on proper alignment and the integration of breath with movement, participants find ease and well-being within the postures, leading to a renewed connection with self. Previous yoga knowledge is encouraged but not necessary.