Michele Landis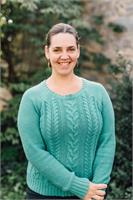 Michele Landis is the owner of Yoga at Simply Well. Michele teaches yoga and works as a one-on-one holistic health coach in Carlisle, PA. She graduated with honors from the Institute for Integrative Nutrition in New York, NY. The Institute for Integrative Nutrition is the only nutrition school integrating all of the different dietary theories, combining the knowledge of traditional philosophies with modern concepts such as the USDA food guidelines, the glycemic index, the Zone and raw foods. Michele's passion is helping her clients cook more and buy and eat local, seasonal foods. She earned her teacher certification in Kripalu Yoga from the Karma Yoga Lifestyle Program of the renowned Kripalu Institute in the Berkshire Mountains of Massachusetts. At the Kripalu Institute, where she studied and served on staff for almost two years, Michele learned the value of incorporating work as a spiritual practice through daily workshops, yogic breathing, nutrition, and connection to nature and community. Michele's own connection to nature is reflected in her passion for backpacking. She has hiked the entire Appalachian Trail, from Georgia to Maine, and has taught day-hiking classes at Cornell University in Ithaca, NY, where she first began practicing yoga. Michele has also hiked the Colorado Trail and New England's Long Trail. She holds an associate degree from the Harrisburg Area Community College.
Michele Landis instructs the following:
Begin your day with meditation, breath work/pranayama and movement. This class is intended to help students go deeper in their yoga practice by creating the space for advanced breath work integrated with meditation. The class will end by elevating energy with a posture flow. This class is not recommended for beginners.




Through a series of asanas that stretch, strengthen and relax the body and mind, participants build core strength and develop flexibility. With a compassionate focus on proper alignment and the integration of breath with movement, participants find ease and well-being within the postures, leading to a renewed connection with self. Previous yoga knowledge is encouraged but not necessary.




Join us for this safe yoga class for expectant mothers during all stages of pregnancy. Learn relaxation, specific yoga poses for strength and flexibility, breathing exercises and meditation techniques that are designed to help through pregnancy, labor and delivery. Whether new to yoga or experienced, come nourish yourself and your baby.

Benefits of Prenatal Yoga:
-Strengthens muscles for birth
-improves energy level
-increases flexibility
-enhances sleep
-reduces swelling
-eases lower back pain and pregnancy discomfort
-reduces stress, anxiety and tension

All classes are led by experienced Pranakriya Prenatal Yoga Instructor and owner of Yoga at Simply Well, Michele Landis. WIth over 12 years of teaching experience, she registered with yoga alliance as an ERYT 500.